WE'VE GOT THE Adaptive Wireless Sound Amplifiers YOU NEED FOR 50% OFF.
That's right, savings for you — right here. We've reduced prices on our Adaptive Wireless Sound Amplifiers at this store, giving you more push to buy. Shop our selection of Best Hearing Aids In 2022 items now for just USD 88.95!
And if you don't love it, don't sweat it. We have you covered with our commitment to 100% satisfaction, backed by our easy return policy.
This offer (and inventory) won't last forever, though. Buy today!
Adaptive Wireless Sound Amplifiers: DETAILED FEATURES
Audiological Features:
•6-Channel WDRC
•6-Channel Low-Level Expansion & Channel Maximum Output Limiter
•16 Band Equalizer
•Intelligent Environmental Noise Suppression (12dB)
•Intelligent Volume Learning & Speech Spectrum Analysis
•Adaptive Feedback Management System
•Wind noise Suppression (3-level)
•Acoustic Comfort Optimizer (3-level)
Functional Features:
•Autosave for Program and Volume Control Position
•Low Battery Warning
•Pre-configured Tone Indicators
•Power-on Delay
•Pre-configured Programs
•P1- quiet environment
•P2- noisy environment
•P3- outdoor
•Volume Control Mode: Push-button 18~30dB (3dB/step)
•Multi-function Push Button:
•Short time push for VC
•3 seconds push for program switch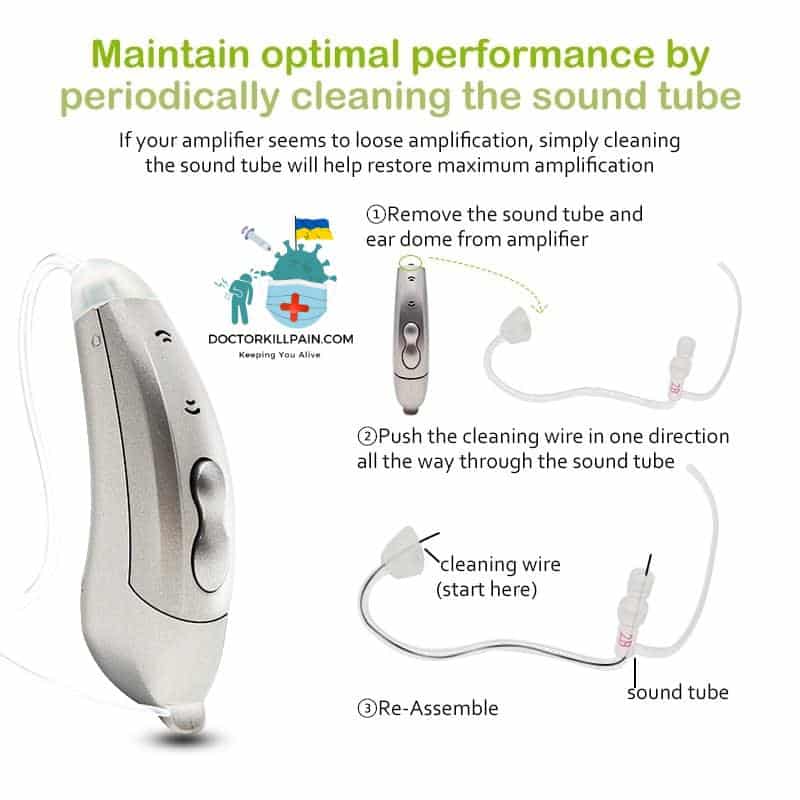 Note:
1. Adjust volume to the minimum before wearing.
2. Choose an earplug of a slightly bigger size to avoid whistler.
3. Increase volume gradually to avoid a sudden increase in sound.
4. If you hear a howling, check whether the ear (silica gel) is appropriate and whether the plug size is tight, the proper choice of earplugs and plugged; make sure no air leaks. Please check the chat window and leave me a message if it still does not work.
5. Keep the ear plug clean.
6. Remove the battery if you don't use it for a long time.
It looks like an attractive offer. But hurry up and click on ADD TO CART because this item is in high demand and could run out of stock!
Adaptive Wireless Sound AmplifiersQUESTIONS & ANSWERS
Are the colors accurate?
All the colors shown on the pictures of our Adaptive Hearing Aids are accurate. However, keep in mind that the exact shade you see on your screen depends on your device specifications and other technical factors.
Why are your products better than the offers in other stores?
All our products, including Adaptive Hearing Aids, live up to the strictest requirements for quality. Regardless, our goods are reasonably priced. As a result, it makes our offers stand out from the others.
Will I have to pay something extra as a shipping fee?
Mainly, you will see the total order cost on the checkout page, including the necessary taxes (if applicable to your location). Thus, no other spending will be required.
How much?
The Adaptive Hearing Aids will cost you USD 88.95. Click ADD TO CART to place an order!
Is it possible to leave a review? I want to share my experience.
Listening to customers is very important. Thus, please post your reviews on social media!
What if it leaves me unhappy?
Please, double-check the Color before ordering. However, if you still don't like the product, you can ask for a refund.
GET YOUR OWN
ORDERING & STORE POLICIES
Is it necessary to use the address of my residence for shipment? Can I order it for my friend?
It doesn't matter whether you want us to send the order to your address or any other location because we'll arrange a top-class delivery anyway!
Is it possible to add several items to the cart?
Please, order as many products as you want because there are no limitations.
There's a typo in my order details. How can I fix it?
You need to contact our support managers to inform them about changing or canceling your order. Hence, there is nothing to worry about.
Does the shipping take as long as you state it here?
We do it as carefully as possible regarding the shipping time estimates. However, in case of emergencies or other events affecting your postal office's performance, there might be a 2-3 days difference between the expected and actual delivery time.
You've got some excellent products, but can I trust your store?
We are proud to have a reputation as a trustworthy online store that meets and exceeds the buyers' expectations. Similarly, you can also check it out – for example, take a look at the feedback left by our customers on different product pages!
What makes you different from other stores?
Our main priority is to build friendly relationships with our clients. Therefore, we do our best to make our business mutually beneficial for our clients and us. Consequently, we always offer quality products and set fair prices.