MAJOR DISCOUNTS ON Adjustable Cap Face Shield
Shop the Adjustable Cap Face Shield from our store today. With popular store picks such as Hat With Protective Flip-Up Face Shield, we're offering you a chance to save USD 3.00 on this in-demand item.
Buy today for 23% off. Offer for a limited time only.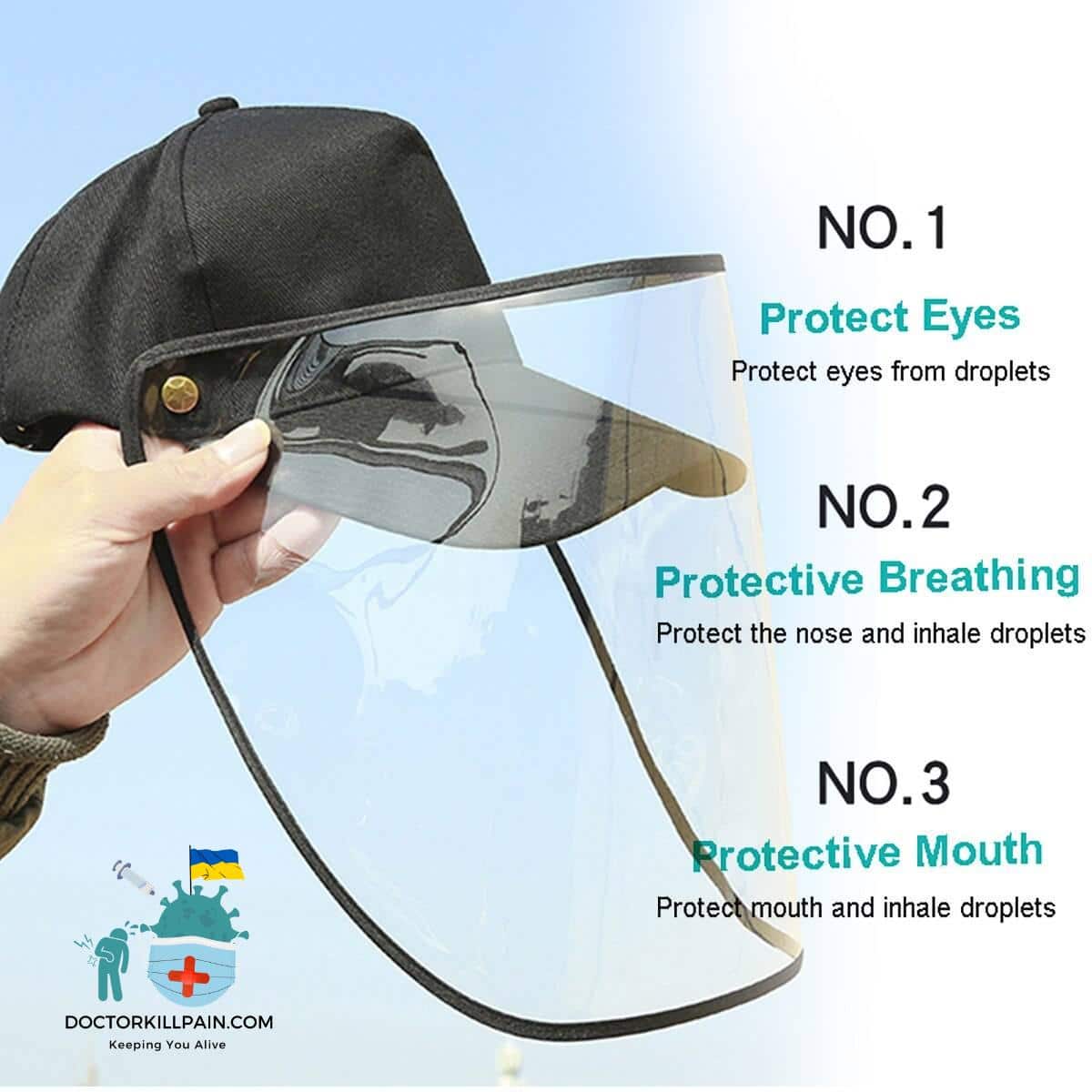 MORE Adjustable Cap Face Shield
Material: Polyester
Gender: Unisex
Effectively isolates saliva carrying viruses.
Waterproof and dustproof, high-quality cotton material, and adjustable size very fit for adult men and women.
Fully Adjustable: Conveniently adjust the angle of the visor to your preference to block sunlight or expand your line of vision. The lens is also removable for easy cleaning.
Avoid leaving your visor in extremely hot spaces for extended periods to extend the lifespan of your sun visor.
Material: Cotton+ TPU
Applicable Gender: Unisex

Applicable Age Range: Adults

Style: Casual style

Features: Soft, comfortable, unique, beautiful, fashionable

Suitable Occasions: Most occasions in life

Package Content:

1 x Epidemic Protection Hat
Few products can boast the attractive USD 9.95 price and this impressive range of features. Therefore, buying the Adjustable Cap with Flip-Up Face Shield is a tempting idea.
PRODUCT QUESTIONS & ANSWERS
Are the colors accurate?
The colors of the Flip-Up Face Shield Hat in the pictures match the real ones. But, please, make sure that your screen settings let your device display colors properly.
Do your products live up to the manufacturing standards?
Our store pays particular attention to the quality of the distributed products and their compliance with the manufacturing standards. So, you have no reason to worry about the Flip-Up Face Shield Hat.
I'm not sure I'm ready to buy it. Is this the right price?
According to our research, USD 9.95 is not a high price to ask for such a product. Furthermore, many of our competitors ask for a higher price.
How much for this?
The Flip-Up Face Shield Hat will cost you USD 9.95. Click ADD TO CART to place an order!
Do you mind if I make a review on this item?
We respect our customers' opinions. Therefore, feel free to share your experience to help us get better.
Am I making the right decision if I buy it?
Considering its value for money, it's safe to say it's one of the best offers on the market. So, why not seize this opportunity?
ORDERING & STORE POLICIES
Can you send my Hat With Protective Flip-Up Face Shield to an address that doesn't match my residence address?
As you wish it! Just specify the necessary delivery address in full detail, and then we'll arrange the shipment as you requested.
I'm worried if all the packages will arrive simultaneously if I order several units of the same Hat With Protective Flip-Up Face Shield?
You don't have to worry about the packages splitting up! Because when you order several units of the same item, they arrive all together even if they are packed separately.
Does the time of the Flip Up Face Shield Cap To Protect From COVID-19 delivery depend on my choice of the payment method?
Your payment method doesn't influence the speed of the Cap With Flip-Up Face Shield To Fight Coronavirus delivery. In other words, choose the most comfortable one.
Do you still have these? Can I order now?
The item is available for purchase right now, so we're looking forward to working on your order!
Are you authorized to sell these? Because I don't want illegal stuff.
It would help if you didn't worry about it. When selling these products, we certainly do not break any copyright laws.
The products look attractive, but is your store trustworthy?
We value our reputation and want to bring joy to each of our customers. Check out what our clients tell about us in their reviews, so you can see that they got what they were expecting!